USTINOV'S RUSTY NITCHEVO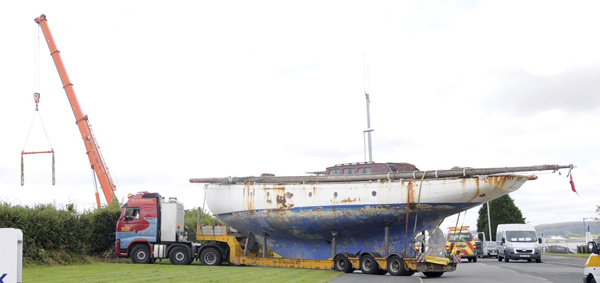 By Andrew Rosthorn

With help from his daughter Pavla, Sir Peter Ustinov had been able to spend the last summer holiday of his life living aboard My Nitchevo in Mallorca in August 2003. By 2011, a team from Underhill Engineering in Plymouth had located the ketch on the hard at Port Napoléon and pulled off a long range rescue, by lorry, for a refit in Devon. Six tonnes of rain water were trapped in her grp-sheathed steel hull.

Back in the 1956 Suez crisis, when Ustinov had just starred in Hollywood with Humphrey Bogart in We're No Angels and his Tony winning play Romanoff and Juliet was opening in Manchester, the multilingual actor, director, author and raconteur had been invited for cocktails aboard the 17.8m ketch in Cannes Harbour. She was then owned by a French industrialist with Moroccan interests and named Christina.

Ustinov heard how she had been scuttled by the Germans in St Tropez Harbour after two wartime gun-running voyages for the French Resistance.

Before the party was over, Ustinov had agreed to buy the yacht, complete with her Spanish captain - and the captain's wife: "José Perez Jimenez's passion for the sea is contained in an austere secrecy not unlike that of a monk for his God, and his controlled anarchy is utterly and uniquely Spanish."

In his 1977 autobiography Dear Me, he wrote, "My rash, thoughtless purchase has given me some of the happiest times of my life."

"I have faced high seas and even peril on old Nitchevo, with waves breaking on the roof of the deckhouse, arrows of icy water in flight as in medieval battle, little whirlpools scurrying round the calves and pushing at the ankles, seas angry and devious in their malice. All of it, even the moments of fear, was sheer exhilaration."

In 1962, the young Michael Caine caught his first sight of Cannes from the deck of My Nitchevo. Ustinov had lent the yacht and his villa in Provence to Caine's London flat-mate Terence Stamp after directing his performance as Billy Budd. Caine remembered the generosity: "Cannes was fantastic. The girls, glamour, home of the world's biggest film festival".

Long-distance lorry driver Marcel Monnink delivered the 37-tonne load on Transportbedrijf Van de Wetering's exceptional 7-axle 23 metre long low-loader using a tortuous route across France to reach the ferry terminal at Ouistreham, then heading from Portsmouth down the A38 to Plymouth. Project manager Richard Underhill said, "She is a great classic with a notable career as a transatlantic racer in 1929 and 1931. Her 82 year old steel hull and teak deck will be restored before we begin a sympathetic refit of her interior, according to original plans.".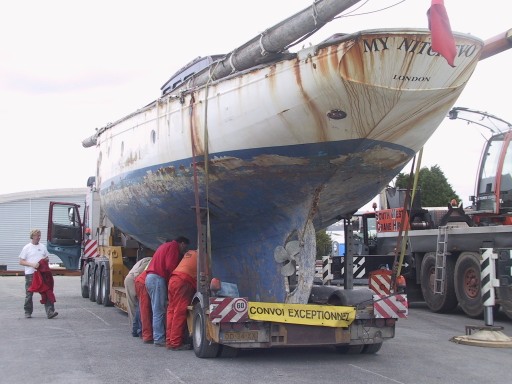 Picture from Sealand Boat Deliveries

The arrival by lorry in Plymouth coincided with the 2011 world financial crisis and sounded an echo of her launch in hard times in Amsterdam in 1929, just before the Wall Street Crash and just before the Netherlands, the last country in the world to leave the gold standard, was devastated by the great slump.



Gerardus de Vries Lentsch designed and built her as Zonnetij III [Sun-tide], gaff-rigged for Dutch partners aiming to win a 1929 race to New York. During the slump she raced in the Atlantic, marconi-rigged under the French flag, as Gabyvonne III. By 1932 she was in Cannes, owned by the pharmaceutical inventor Dr Pierre Boucard and renamed after his probiotic medicine as Lactéol III. Boucard had isolated Lactobacillus acidophilus bacteria from human stools in 1907. By 1932 he was the wealthy friend of the great photographer Jacques-Henri Lartigue and patron of the daring bi-sexual Polish art deco painter Tamara de Lempicka.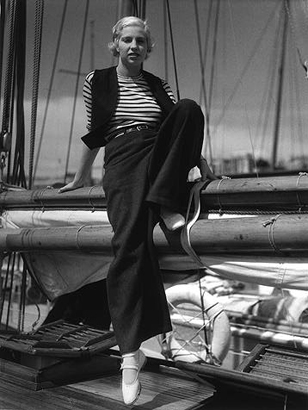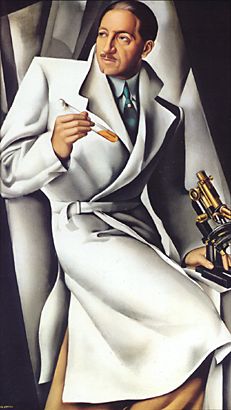 Lartigue photographed Boucard's daughter Arlette on a yachting trip in April 1932. Lempicka's painting of Le Docteur Boucard is world famous. Her nudes and portraits of Parisian women with "lighting by Caravaggio, tubism by Fernand Léger and lipstick by Chanel", later collected by Jack Nicholson and Madonna, include a portrait of Arlette Boucard with arum lilies that was sold at Sotheby's in New York for USD 1,482,500.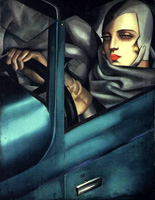 CLICK Lempicka's Auto-portrait [Tamara in the Green Bugatti] for Alain Blondel's Catalogue Raisonné of Tamara Lempicka's life and work.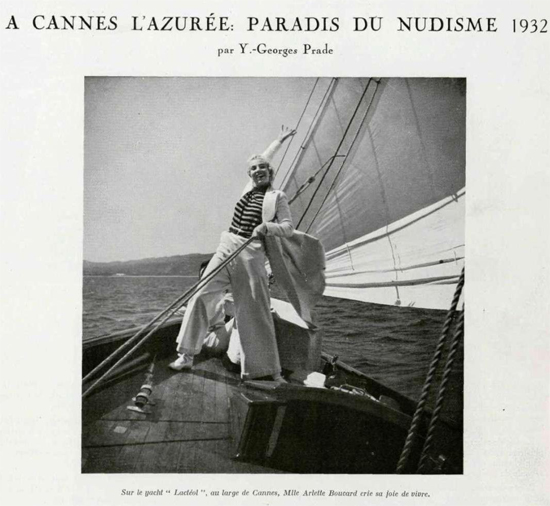 The September 1932 edition of L'Officiel de la Couture de la Mode de Paris opened with a report on "revolutionary" summer life-styles in "Le Paradis du Nudisme 1932" with a picture of an exuberant Arlette Boucard on the foredeck of Lactéol III, under way in the Bay of Cannes.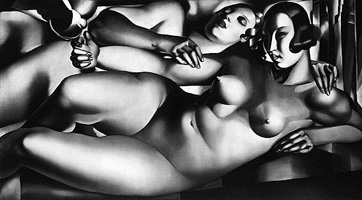 In 1943, during the Occupation, a German soldier stole "Myrto", a sexy painting of two nudes from Dr Boucard's collection. The sleeping figure resembled Lempicka. The stolen painting has never been found.

The Germans scuttled Lactéol in St Tropez Harbour after discovering two mysterious gun-running voyages from Martinique for the French Resistance. She was under water for two years before being raised and refitted. When Peter Ustinov went aboard for the cocktail party, she was registered in Monaco and owned by Société Civile Christina.

Ustinov said he used some blocked French funds to buy the yacht but soon had to change her name from "Christina" to "Nitchevo", which is Russian for "It's nothing".

"When I bought the boat, she was still called Christina. An unpleasant story, because the Onassis family had a large yacht with the same name. Sometimes I got messages that were totally incomprehensible, "Buy now on the market of Damascus", signed by a certain Papadopoulos. I knew that it was for Aristotle Onassis, but I did not, unfortunately, know what should I buy."

He said the revised Russian name always reminded him that when he was on board, in his favourite berth at Puerto Andratx in Mallorca, "I'm doing nothing, absolutely nothing more than go for a little swim and eat with great appetite. It's like a stop at the gas station. Here, I'll get me the strength that in the course of the year I will consume elsewhere."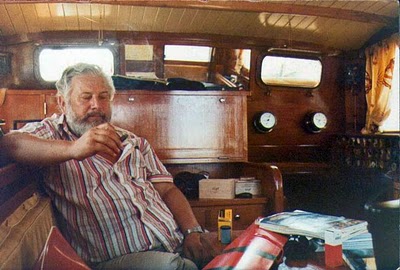 Ustinov said that after acting in forty films in five languages, winning Oscars for Spartacus and Topkapi, directing operas, writing over 20 plays and novels and serving as a UNICEF goodwill ambassador, no possession had given him more pleasure than My Nitchevo. He told an American reporter that he had once agreed to appear a film only because its producer had offered to hire the yacht.

Being the son of Jona Baron von Ustinov, an MI5 spy at the German embassy in London in 1938, it is likely that Peter Ustinov knew that the German Chancellor Otto von Bismarck had worn on his finger a strange iron ring engraved with the Russian word "nitchevo".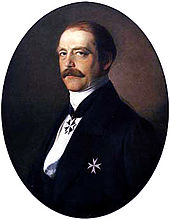 In 1885 the New York Evening Telegram quoted from the Peterburgskie Vedomosti:

Prince Bismarck wears on one of his fingers a large iron ring inscribed with the Russian word "Nitchevo" signifying "It is nothing" or "It does not matter." In the year 1862, when Bismarck was ambassador at the Russian Court, he received an invitation to an imperial hunt appointed to be held about one hundred versts away from St. Petersburg. Bismarck, eager sportsman as he is, started off long before the time, to have a little sport on his own account before the Emperor's arrival; however, he lost his way, and at the hour appointed for the meet he found himself in an unknown village miles away from his destination. As he knew little Russian he inquired of a peasant how far it was to the place he wanted to reach. "Twenty versts," was the reply. "Will you drive me there?" "Willingly." A few mintes later the Prussian Ambassador was sitting in a small rustic sledge drawn by a couple of sorry hacks. "Will you get me there in time? I am in a desperate hurry!" "Nitchevo." replied the Russian jehu. "These are rats but no horses that you have got in front of your sledge," observed Bismarck, growing impatient at the slowness of their progress. "Nitchevo," retorted the peasant; but now he urged the little horses at such a speed that the passenger could hardly take his breath. "Halloa. Now you are driving me like mad!" exclaimed Bismarck. "Nitchevo!" "We shall be upset!" "Nitchevo." And this was all the reply he got to his repeated remonstrances until His Excellency suddenly found himself lying in the snow. Exasperated beyond measure, Bismarck was about to vent his anger on the peasant who had just uttered another "Nitchevo!" and seized for the purpose a strip of iron that had broken loose from the sledge, when he thought better of it. he kept the piece of iron and had the ring made out of it which he still wears. After relating the story to our correspondent, he added, "My good Germans often reproach me with being too lenient with Russia. But they should remember that I am the only person in all Germany who is in the habit of saying "Nitchevo" at critical moments, while in Russia there are a hundred million people who in similar cases are ever ready to pronouce the word."

In his 1977 autobiography Dear Me, Ustinov wrote: "My boat Nitchevo has been my inspiration in good times, my salvation in bad. The Captain who came with it, José Perez Jimenez, is an integral part of his craft. He was aboard when I bought it, and we have aged together. His wife Carmen, a blonde girl with a gentle Spanish beauty, a little doll-like in repose, tinged with both melancholy and humour in animation, sails with us, and cooks the fish we catch.
s "José himself has the aquiline gravity of the bullfighter, and would have inspired confidence in any of the navigators of the golden age. Salvador Dali"s answer, when asked whether he believed in God, would suit his Spanish attitude to the ground, even to the sky. 'I practise but I do not believe.' Or, as others say and it probably comes to the same, 'I believe but do not practice'.
Having read in his Baedeker that the island of Mikonos possessed something like three hundred churches and chapels for a population of two thousand, José turned to me like a grandee of Spain as an impenetrable fog swirled around us off the island, and said, 'Three hundred churches, and so little light'".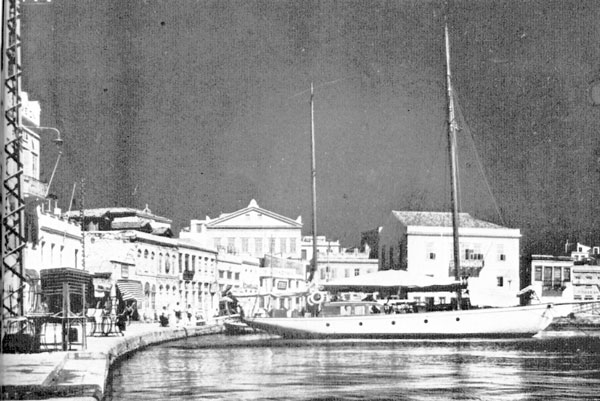 NITCHEVO at Syros, photograph by Henry Fonda in Dear Me by Peter Ustinov, London, 1977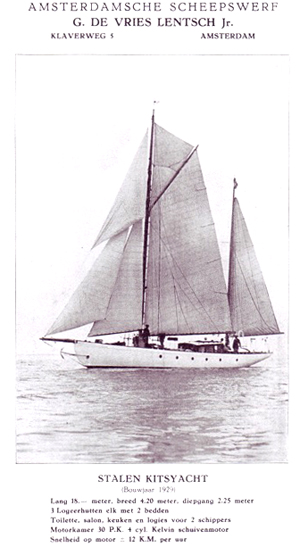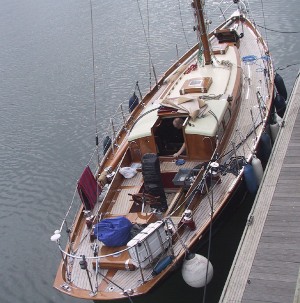 Griff Rhys Jones's celebrated Rhodes 45 sloop UNDINA alongside at Cherbourg, bound for Les Voiles de St Tropez.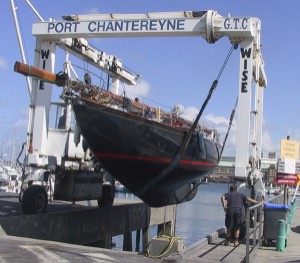 Lifting UNDINA to a super-low trailer for a BTX move from Cherbourg to St Tropez in 2007.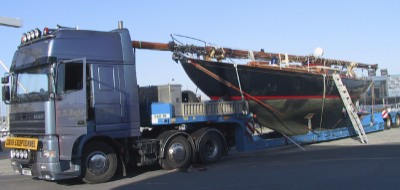 CLICK this picture of UNDINA for boat transport news from 2009.


BOAT TRANSPORT? What's Wrong With Shiply?
CLICK for user feedback.
NAVIGARE NECESSE EST, VIVERE NON EST NECESSE
To sail is necessary, to survive is not necessary.

Attributed by Plutarch to Gnaeus Pompeius who sent sailors to sea in bad weather to bring grain from Africa to Rome.



Ici on trouve la metéo, des vendeurs de bateaux, les spécialistes du transport bateau et la cyberbourse électronique des transporteurs.



Ein Amerikaner aus Kalifornien war 1997 unser erster Kunde. Er liess seine Yacht in Amerika von Küste zu Küste transportieren. Seit diesem ungewöhnlichen Boottransport, hat unsere Transportbörse hunderte von Yachtbesitizern mit anderen Bootstransporteuren in Verbindung gebracht. Stellen auch sie ihr Transportproblem auf dem BTX board dar. Die Bootstranporteure geben kostenlos Ratschläge und bieten ihnen Preise an.



Luxury Boat Hire Norfolk Broads with richardsonsboatingholidays.co.uk